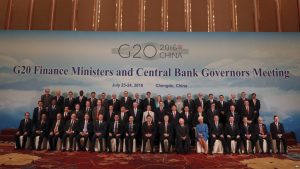 Coordination and harmonization are keys to collective action in global governance.  The jury remains out as to exactly what China's hosting can accomplish with respect to either.
ANU's Adam Triggs recently wrote that there were only three practical things that any G20 Leaders' summit can accomplish:
… it can share information and best practice policies between countries; it can reform global governance by either reforming existing institutions like the IMF or creating new ones; or it can undertake what Oxford University's David Vines calls 'concerted unilateralism', where countries implement policies (fiscal, monetary or structural) to suit their own economies, but do so collectively.
As a number of us suggested in our V20 Hangzhou gathering at Zhejiang daxue in the spring, Leaders also can, and should extend, their efforts beyond what is described above. Indeed in our collective view there is nothing more critical than having G20 Leaders direct their message to their own publics.  They need to signal their publics as to what is critical in their G20 efforts.  As our Blue Report to the Chinese leadership urged:
Together, G20 leaders can make clear and powerful statements which can signal the path of economic progress to all actors around the world. … Leaders at G20 Summits can strengthen their connection with their publics by devoting more attention to the content and the modes of communications from the summit platform.  … Key ideas could be summarized and Leaders could speak in more direct ways to their publics.  … G20 Leaders understand that globalization requires fair and updated rules that can elicit trust, a sense of fairness, and certainty.