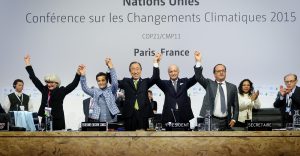 We are beginning to understand the consequences of an 'America First' leadership of the Global Order. And to just about any observer of it, it isn't pretty.  As we wait here today for President Trump's announcement on the Paris Accord – and whether he pulls the United States officially out or not –the US is surely out at least for the next four years. 
The retreat of US leadership from the Liberal international order continues. Maybe the most startling recent statement actually comes from two Trump officials. In an opinion piece in WSJ assessing the success of Trump's first overseas trip to the Middle East, to NATO and to the G7 in Italy, H.R. McMaster, the White House national security advisor and D. Cohn, the director of the National Economic Council, described the America First view of the Global Order:
The president embarked on his first foreign trip with a clear-eyed outlook that the world is not a "global community" but an arena where nations, nongovernmental actors and businesses engage and compete for advantage. We bring to this forum unmatched military, political, economic, cultural and moral strength. Rather than deny this elemental nature of international affairs, we embrace it.