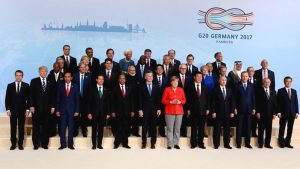 So, I was struck almost immediately by the headline in the Atlantic blog on the Hamburg G20.  It turns out that the post was by my good friend Tom Wright from Brookings. The headline – "The G20 is Obsolete". Just as I thought but so soon after Hamburg!
Tom's defense – when I caught him – he didn't write the headline, which I suspect is perfectly true – but really. At least a protest!
My only immediate reposte -"you had better hope not" that is at least with respect to the conclusion.  Now, Tom generally edges to the realist side when examining the liberal internationalist order, but I was surprised by the vehemence.  Take this line:  
But the divisions in the G20 run far deeper than frustration with Trump: The body itself is a vestige of a world that no long exists.
Whoa.  That's strong!