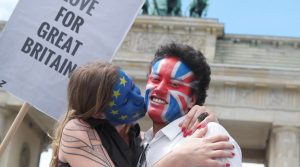 Gloom and despair have accompanied the Brexit vote, especially for those concerned about the wider Atlantic alliance.
Mr. Obama, after meeting with leaders of the European Union attending the Warsaw NATO Leaders' Summit, tried to play down fears that Britain's exit would weaken European resolve. He acknowledged that the "Brexit" vote had "led some to suggest that the entire edifice of European security and prosperity is crumbling. But he added, "Let me just say that as is often the case in moments of changes, that this hyperbole is misplaced."
As Kathleen McNamara of Georgetown succinctly put it in her recent Foreign Affairs article, "the answer to the breathless question posed in the New York Times on Sunday—"Is the post-1945 order imposed on the world by the United States and its allies unraveling, too?"—is simple. No, it is not. And yet the emotions and cultural chasms brought to bear in the Brexit vote cannot, and should not, be ignored.