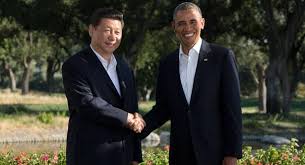 With the gathering of US and China officials in Beijing for the sixth S&ED (Security and Economic Dialogue) meeting of the two, it is reasonable to take a step back to assess where relations are at the moment between these two great powers.  I was tempted to do this in part because the meetings are now happening but also because I reviewed, just the other day, a piece on global order by my colleague  Parag Khanna called a "World Reimagined" in the The National Interest.
Now first a quick glance at the meeting.  There appears to be quite an allergy toward the G2 concept.  Indeed most experts don't even see it as part of the current global summitry mix.  Notice Parag's aversion as he focuses on Kissinger's concept of US-China relations  in On China:
While a term like "co-evolution" creates an escape route from thinking of history as a series of repetitive cycles—which is a good thing—it also propagates the assumption that a complex global system can be boiled down to simple formulas such as a "G-2" world dominated by the United States and China, with other regions being peripheral or inert—not such a good thing. That would be, to paraphrase H.L. Mencken, neat, simple, and wrong. What is the point of proposing formulations that evade historical traps if they rely on diplomatic configurations that perpetuate them?  Perhaps a stable Sino-American "co-evolution" can exist, depending, of course, on how we define what that is. But if it does, or if instead there is an eventual rupture in U.S.-China relations, we will still be faced with the need for some kind of global governance framework appropriate to a complex, post-Cold War world.
It seems to me that this misses the architectural point. But for a few folk residing in either Beijing or Washington, the G2, or concretely the S&Ed, the collective efforts of the two are but a caucus.  There is no reality to the view – the fear – that this might be viewed as a directorate.  If anything the two rather large, probably overlarge, sets of officials struggle to achieve progress at all.  Indeed that is exactly the takeaway from a number Brookings Institution experts in their section – "Upfront". This annual conversation is principally about conversation – officials talking with officials.  There may be progress – the possibility of a bilateral investment treaty, for instance, or progress on joint US-China energy and environment policy, but forget about great breakthrough policies and agreement on strategic cooperation.  This about conversation and possibility, according to Brooking's Jonathan Pollack, that the two may be able to "stem the increasing negativism and potential alienation in bilateral relations."
Which leads me to my main concern – this on the strategic side in particular.  There is no question that perceptions of the other side have "gone south" between these two great powers.  And one reason,  little talked about, is that both leaders that drive strategic policy have failed to identify "go to" folk" when it comes to foreign policy and more particularly strategic relations in East Asia.
As pointed out by Jane Perlez in her NYT  piece "Chinese Leader's One-man Show Complicates Diplomacy", President Xi exhibits a:
one-man leadership style … who appears to make the big decisions on national security –  meant to challenge American primacy in the Asia-Pacific region and establish a China-centric alternative – without much consultation with others, …
While with the previous leadership President Hu had Dai Bingguo, Yang Jiechi the current identified chief foreign policy advisor it would appear that he is not close to President Xi.  To the extent there may be an advisor, it appears to be Wang Huning, the director of policy research  of the office of the Communist Party's Central Committee – but not a person it seems open to being button-holed by either Americans or Chinese officials or advisors.  So a very important channel of communication and dialogue is absent.
And if this isn't bad enough, it would appear that the same exists currently for President Obama.  Where earlier there was a Jeff Bader or even a Kurt Campbell, there does not appear to be any current equivalent for the President. There is no evident channel for those seeking to discuss US-China strategic matters.
All this appears to be quietly evoking anxiety. You certainly want to have for each leader an advisor or advisors who in turn hold communication with many on the other side that can feed back views and concerns to the leader. But it doesn't appear to be the case today.  There appears to be no Number Two.
Image Credit: politico.com