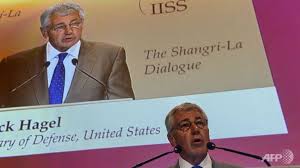 On the eve of the first summit between US President Obama and China's new President Xi Jinping scheduled for the 7th and 8th at Sunnylands estate in Rancho Mirage, California,  Secretary of Defense Chuck Hagel delivered an annual and important statement at the Shangri-La Dialogue.  The speech entitled "The US Approach to Regional Security", is not markedly distinct fromrecent speeches by the new Secretary of Defense or speeches by the National Security Advisor Thomas E Donilon – except maybe the announcement that the USS Ponce would be acquiring a solid-state laser to combat missiles and small speed boats, etc., – but still the imbalance between security and military and broader Asia-Pacific initiatives remains stark.
Now he is the Secretary of Defense giving a speech at a military and intelligence conference but the focus on grand strategy, tactical improvements and the strengthening of US allies and alliances is evident. And it didn't long at all for the Chinese to respond.  In the question and answer Major General Yao Yunzhu, the director of the Center for China – America Defense Relations at the Academy of Military Sciences in Beijing took the opportunity to criticize the speech arguing: (1) it was not at all clear to the Chinese that the US wanted a "comprehensive"  relationship with China; and (2) that the US rebalancing or pivot amounted to anything other than "containment" of China.
Now the "containment" refrain is a Chinese point of view that you cannot miss when discussing US-China relations with Chinese experts and officials.  Indeed at the most recent meeting of the Harvard – Peking University dialogue called "The Challenge and Cooperation"  held in Beijing in January 2013, the refrain of containment was persistent from our Chinese colleagues.  Now the repeated charge is a bit much – not everything is about China – (indeed as our colleague Joe Nye asserted , "only China can contain China") but a speech like Chuck Hagel's certainly might well be interpreted in such a way.
So the speech is strong on alliance renewal and/or development – Japan, Korea and then allies further out in the Asia-Pacific, Thailand, Australia, New Zealand, the Philippines and even Burma.  It says little about China other than efforts to improve military-to-military contacts – and that is not inconsequential.  But the speech is otherwise disappointing.
Secretary of Defense repeats some standard lines that warrant some reaction. First Hagel claims: "The Asia-Pacific rebalance is not a retreat from other regions of the world".  Well it may not be a retreat but it sure seems like an escape from the Middle East.  I can't imagine any US leadership not wishing a respite from the Middle East after Iraq and Afghanistan and the endless unproductive Israeli-Palestinian negotiations.  And with budget constraints, I would think that some form of zero sum game is being played out here.  The real dilemma for the US is that it may not be possible to disengage from the Middle East as it would like and the Middle east may require more resources than the US military currently wants to commit.
The second standard line is: "In support of this goal, America is implementing a rebalance – which is primarily a diplomatic, economic and cultural strategy."  Now again this is a strategic speech by the Secretary of Defense but a one paragraph description in an entire speech of what is claimed repeatedly by officials to be a diplomatic, economic and cultural strategy – I got to say doesn't really cut it. Moreover in that one paragraph the Secretary of Defense raises the Trans Pacific Partnership – a new trade and investment initiative –  which most Chinese analysts, in fact not even Chinese analysts will tell you is all about the exclusion of China.
In Asia, Secretary Hagel see a range of persistent and emerging threats, including:
North Korea's nuclear weapons and missile programs, and its continued provocations;
Ongoing land and maritime disputes and conflicts over natural resources;
The continued threat of natural disaster, the curse of poverty and the threat of pandemic disease;
Environmental degradation;
Illicit trafficking in people, weapons, drugs, and other dangerous materials – including the proliferation of weapons of mass destruction;
And the growing threat of disruptive activities in space and cyberspace.

And these matters are exactly where a comprehensive US-China relationship can be built.  If there are rising tensions in the Asia-Pacific and in the China-US relationship, here is the starting point.
But you can't look to this speech for any guide to a more positive or more comprehensive relationship.  Maybe such a relationship will become clearer at the upcoming Presidents' meeting. Let's watch!
Image Credit:  channelnewsasia.com