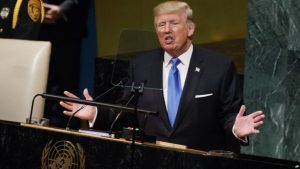 It has become clear where Trump's policies are taking us – or as clear as one can be when it comes to interpreting Trump policy.  Trump is breaking the structures and  policy frameworks of America's existing domestic and foreign policies.  The question is less whether he can accomplish some measure of this, then what will  it take future US leaders, assuming they are willing, to rebuild the institutions and policies that have been constructed over the past seven decades.  As Tom Friedman of the NYT recently declared:
Moreover, when you break big systems, which, albeit imperfectly, have stabilized regions, environments or industries for decades, it can be very difficult to restore them.
The litany of destruction by this President is now  all too familiar.  In his first day in office after his inaugurated, Trump withdrew from the Trans-Pacific Partnership.  He now appears to be targeting for destruction the NAFTA before the rather hapless Mexican and Canadian leaders.  And the South Korea-US free trade agreement appears to be next for the chopping bloc, notwithstanding the need it would seem to maintain close alliance support in the face of the North Korea's nuclear and missile ambitions and US efforts to force DPRK denuclearization.