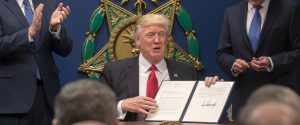 With the change in US Administrations we face possibly the most dramatic change in US foreign policy since the end of World War II.  The global leader has seemingly become the rogue seeking dramatic change in the Liberal Order the US has as much or more responsibility for over the last seventy years plus.
As has quickly become clear, however, we do not know if President's Trump rhetoric of the campaign will be followed by actions matching the rhetoric.  There is some reason to think that his and his administration's actions will not match some of the more highly nationalist expressions of his 'America First' rhetoric.  One need only look at Trump's early statements and actions on China – phoning the Taiwan President, then questioning the 'One China Policy' only to reaffirm the policy in a call with China President Xi Jinping – to raise questions even doubts over the election rhetoric. But even without dramatic foreign policy actions it is not hard to see Trump and his Administration as possibly the greatest challenge to the Liberal Order that any of us have witnessed.
I will be periodically examining US foreign policy, and the policy toward the Liberal Order it and by key actors -supporters and detractors alike – hoping to assess the impact of the policies and actions on the Liberal Order. The first entry is the piece I was invited to post at the US-China Focus website.  There will be others. In addition, as Senior Editor of Oxford's Global Summitry: Politics, Economics, and Law in International Governance, I intend to post a series of podcast interviews with experts and former officials on: 'Shaking the Global Order: American Foreign Policy in the Age of Trump'.   I will back to you on additional posts and the podcast series.
Image Credit: abcnews.go.com