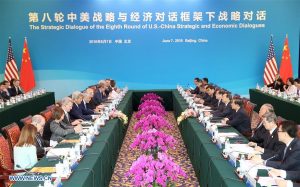 Well really no sooner had the G7 at Ise-Shima Summit (May 26th-27th) in Japan concluded, then our attention was redirected to the US-China 8th S&ED (Security and Economic Dialogue) that concluded in Beijing on June 7th.  
The annual meeting is a chance to take the temperature once again of US-China relations. The Summit, as the name implies is made up of two tracks – the Strategic Track led by the US Secretary of State, John Kerry and State Councilor Yang Jiechi and each is a special representative to their respective leader.  Meanwhile the Economic Track was led by US Treasury Secretary Jacob Lew and Chinese Vice Premier Wang Yang.  
Even a quick read of the two communiques reveals just how different the tracks are.  The Strategic Dialogue took some 19 pages to report on its collective efforts, while the Economic Track took a mere 3.  
It is clear that the US came at the economic discussions urging changes and reforms to Chinese economic behavior and bringing the complaints and difficulties that US businesses have, and continue to face, in China. From the media report, below from the  the NYT,  it is clear that there is growing frustration in the US business community over the  array of regulations that inhibit US business interests in China:
James McGregor, Greater China chairman for communications consultancy APCO Worldwide, who attended a Tuesday event for executives with senior U.S. and Chinese officials, said executives were blunt in stressing how negative things were becoming for foreign companies in China.